November 21, 2022
Coworking Spaces Shifting the Course of Commercial Office Space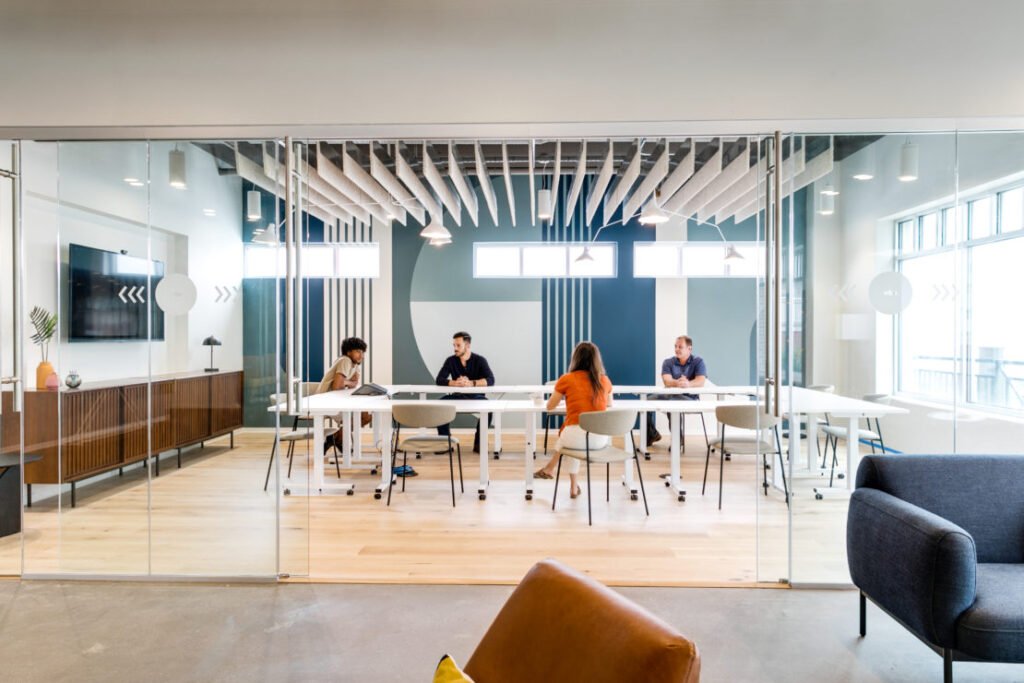 Armada Hoffler is no stranger to fostering a virtual office space as our employees are given the opportunity to take advantage of a hybrid work environment. With this comes the understanding that the workforce is evolving in a way that allows a lot of flexibility in terms of the physical workplace.
For those who work for organizations that do not have a headquartering office space, it can be a challenge to find a functional location to work. In these situations, the option of a coworking space can be very useful.
What is a coworking space? Coworking space is an environment designed to accommodate various individuals from different companies who need a place to work. These are shared, common spaces where professionals can work independently, while also sharing their expertise and innovative ideas.
While the need for traditional office space still exists, making adaptations for those that have unconventional working schedules is a necessity in the workforce. Technological advances and social changes have led budding generations to prioritize collaborative and creative working environments. Coworking spaces offer greater flexibility, networking opportunities, boosted productivity, and foster a sense of community for its members.
When in development of a new project, Armada Hoffler makes it a point to stay ahead of these industry trends. Our latest mixed-use development, Chronicle Mill in Belmont, North Carolina, exemplifies a prime demonstration of these efforts. This property is set to feature its own coworking space, Mill Collective, which will be a great option for residents and locals who follow a more modernized working approach or flexible schedule. This space is valuable in the way that it capitalizes on individual productivity, facilitates growth mindsets, and shows those who take advantage of it as an amenity that their work is beneficial to our community.
Another example of a successful coworking space we have in our portfolio is Gather in Town Center of Virginia Beach. Upon opening its doors in July 2020, Gather was the first coworking space in the area. Its Virginia Beach office includes 145 rentable offices, 11 conference rooms, a podcast booth, event spaces, and designated desks in place for those in need. The location is so unique because it is fully furnished for its members and grants them access to any and all of its other locations. Plus it is in the heart of Virginia Beach!
How does this influence the real estate market? Coworking spaces are forcing commercial real estate models to evolve. The number of start-up companies and remote workers is continuing to rise and the current low-growth state of economic growth is putting pressure on many companies to increase productivity. This element, along with the increased flexibility of corporate organizations, is driving the increased demand for more coworking spaces.
What are the benefits of coworking spaces? These spaces are an innovative way for property owners to generate revenue from their office spaces that are not occupied by an entire organization. These spaces are also beneficial from a landlord's perspective. Being that utilities and other business expenses are divided amongst a large pool of members, this cuts additional costs that are traditionally paid by property owners.
How do you think the coworking sector will influence the office space market over the next few years? Research conducted by Ropes & Gray Real Estate found that 99% of its respondents believe that REITs are a long-term buyer of coworking operators and assets. We are curious to watch how the rise of this environment of the working world develops.
Get the scoop on news and information related to commercial real estate and REITs from our perspective! Follow us on social media: Instagram, Facebook, and LinkedIn.