Divisions
We pride ourselves on being a different kind of REIT that is both vertically integrated and self-managed. Our three divisions make up the pillars of the company that allow us to provide general construction and development services to third-party clients, in addition to developing and building properties to be placed in our stabilized portfolio.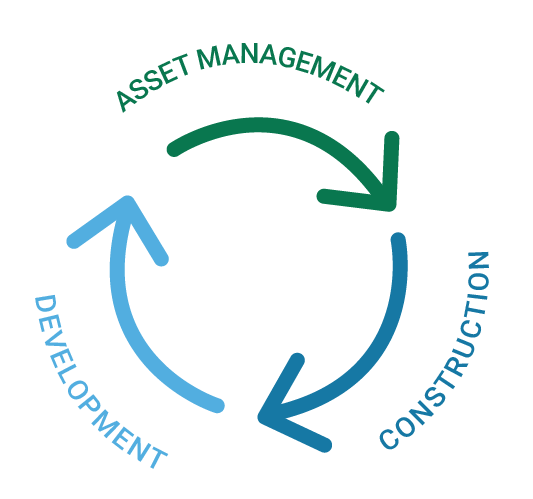 Development
The skilled and knowledgeable Development team offers a broad array of client-driven commercial real estate services. Our regional presence, full-service capabilities and financial strength make us one of the premier developers.
Project types have included mixed-use town centers, apartment and condominium buildings, luxury hotels, Class A and B office space, build-to-suit and speculative flex-tech office buildings, retail space, power centers and neighborhood retail centers, medical and special purpose complexes, as well as industrial, distribution and manufacturing projects. It has been the organization's performance across the broad spectrum of real estate products and development services that has fueled Armada Hoffler's growth and success.
Construction
Our in-house general contracting company helps navigate the complexities of our development projects and provides tight control over both costs and schedules, reducing development risk and ensuring on-time deliveries, while adding value to every phase of the project. Many of the development projects we take on and financial structures we employ are made possible by this unique construction expertise we enjoy relative to our peers in the REIT universe.
Our integrated team of construction experts services internal development activities as well as third-party customers. This segment of our business generates substantial income fees which translate into significant contributions to our Net Operating Income (NOI).
Asset Management
Our Asset Management team focuses on improving the performance and overall quality of our portfolio through an efficient balance of budgeting, stringent financial management, operating expense analysis, real estate tax and insurance reviews, capital improvements, energy management programs, lease analysis, tenant and vendor relations, and market awareness.
Our team of professionals takes a proactive and strategic approach to portfolio management, continually working to increase the profitability of the properties under their stewardship and ensuring that overall portfolio performance exceeds expectations.