November 12, 2020
Suffolk Foundation holds 10th Annual Forum featuring Lou Haddad as Keynote Speaker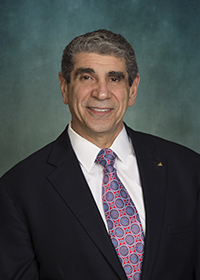 Suffolk News-Herold
by Jimmy LaRoue
During its existence, the Suffolk Foundation has provided more than $6 million in grants, donations and gifts to various organizations in Suffolk and Western Tidewater.
Foundation president Kermit Hobbs Jr. announced the total during its 10th annual Community Forum and Luncheon, held Nov. 11 and also streamed online.
The foundation, which formed in 2006, assists people, corporations, organizations and other foundations in meeting their own charitable goals, having collected $12.73 million in gifts and contributions since 2006.
The foundation has awarded $558,250 in grants devoted to human need, and another $459,050 to health and education organizations. It has also made grant awards in areas such as arts education and environmental causes.
From 2008 through 2019, the foundation has provided $74,000 to the Western Tidewater Free Clinic and another $72,000 to ForKids. It has provided at least $43,000 to 13 different organizations. Besides the free clinic and ForKids, they include:
Salvation Army – Suffolk Unit: $62,000
CHKD Child Abuse Program: $61,000
Suffolk Meals on Wheels: $57,500
Suffolk Center for Cultural Arts: $55,500
Senior Services of Southeastern Virginia: $55,000
Virginia Legal Aid Society: $52,500
Boys and Girls Club Suffolk Chapter:  $49,000
Suffolk Family YMCA: $49,000
Nansemond River Preservation Alliance: $48,000
Suffolk Literacy Council: $44,000
Access College Foundation: $43,000
Hobbs said in 2020, "with the appearance of the COVID-19 pandemic, Suffolk Foundation took steps to further ease the financial burdens of the organizations we supported in 2019."
Because of the pandemic, some organizations have been unable to use the grant awards from the foundation, so it allowed three of the organizations to use a combined $15,000 in previous grants for COVID-19-related needs.
The foundation also reactivated its disaster relief fund and responded to other COVID-19 needs by providing $50,440 to nine agencies from this fund.
Former Suffolk News-Herald editor and current pastor of Liberty Spring Christian Church, Res Spears, gave the invocation while Erinn Portnoy, executive director of the child abuse program at Children's Hospital of The King's Daughters, and Louis Haddad, president and CEO of Armada Hoffler Properties, also spoke. Haddad was the event's keynote speaker.
Portnoy noted how the money from the foundation has helped with CHKD's child abuse program, which has 10 city-specific and military multi-disciplinary teams, because she noted that every jurisdiction handles cases differently.
She said its Suffolk multi-disciplinary team meets monthly. Due to the pandemic, the meetings are currently held virtually.
Portnoy said domestic violence has seen "a significant increase" during the pandemic, with its program seeing an increase in serious physical abuse cases. She said the CHKD child abuse program is prepared to see an increase in referrals when children do not return to school and feel safe enough to disclose.
"I could go on and on, but I think you get my point," Portnoy said. "It takes a special dedication from our team as well as those involved in the investigation to help children right here in Hampton Roads recover from abuse. But we could not help all the children we do without the tremendous support of CHKD, our multi-disciplinary teams, and you.
"The services we provide are so unique and specialized, and unfortunately, much of what we do is unreimbursable. That is why it is so critical to have individuals in these groups such as the Suffolk Foundation help keep our program open."
She said just 13% to 15% of the expenses of CHKD's child abuse program are reimbursable, which makes having community support "essential and ongoing."
Haddad said those attending or watching the forum should not be fooled by the title of his presentation, "Building Success in a Pandemic Market," because he said his company has no magic formula for doing so. He said this is the fifth major recession that Armada Hoffler has made it through.
"Much like many of you, we're doing the best we can to survive and prepare ourselves for the next cycle," Haddad said. "And hopefully that'll be sooner rather than later."
He said it has learned lessons that have helped it cope and emerge stronger than when it went in in the first four recessions.
"We have every reason to believe that we'll have the same effect coming out of this recession," Haddad said.