About Us
Armada Hoffler Properties (NYSE:AHH) is a vertically-integrated, self-managed real estate investment trust with four decades of experience developing, building, acquiring and managing high-quality office, retail and multifamily properties located primarily in the Mid-Atlantic and Southeastern United States. The Company also provides general construction and development services to third-party clients, in addition to developing and building properties to be placed in their stabilized portfolio.
Our Brand
Armada Hoffler's integrated business model creates a competitive advantage in the marketplace and provides sustainable, long-term value to investors. Our logo reflects the highly successful synergy between the Company's three business units – development, construction, and asset management – as illustrated by the three blocks that compose the iconic Armada Hoffler triangle.
Daniel A. Hoffler Launches Armada Hoffler
The Company was founded in 1979 in Chesapeake, Virginia. With his vision, Mr. Hoffler created a business culture that quickly vaulted the Company into one of the premier commercial real estate firms on the East Coast. Today, he serves as Executive Chairman of the Board of Directors.
Armada Hoffler Starts Construction Business
Armada Hoffler Construction Company has built millions of square feet worth billions of dollars since inception and has consistently ranked among the "Top 400 General Contractors" nationwide by Engineering News Record as well as among the "Top 50 Retail Contractors" by Shopping Center World.
Current CEO Lou Haddad Joins Armada Hoffler
Lou Haddad was recruited to Armada Hoffler as an on-site construction supervisor who quickly distinguished himself among tradesmen in the field and company executives. He was promoted two years later to President of Armada Hoffler Construction Company, becoming one of the youngest top executives in the country for a major general contractor.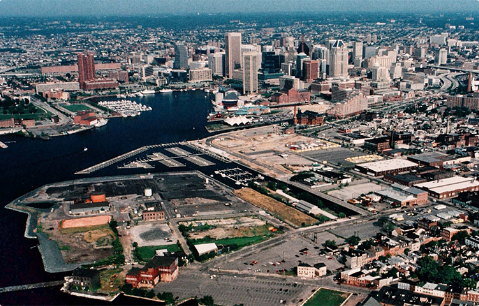 Construction at Harbor East Begins
The Armada Hoffler Construction Company establishes a longstanding relationship with clients looking to redevelop Baltimore's Harbor East area, the last stretch of land available on the City's waterfront. Over the next two decades, this business relationship resulted in more than $1.5 billion worth of construction work for Armada Hoffler and continues today with the Harbor Point development.
Armada Hoffler Breaks Ground in Town Center
In the summer of 2000, the City of Virginia Beach and Armada Hoffler embarked on a multi-decade, public-private partnership to create an urban core for the largest city in the Commonwealth of Virginia. To date, the ongoing mixed-use development provides an open-air, pedestrian-friendly live-work-play environment for citizens and visitors to enjoy.
Company Headquarters Move to Virginia Beach
Upon completion of the first phase of development in the Town Center of Virginia Beach, the Company moves its corporate headquarters to The Armada Hoffler Tower, which was at the time, the third tallest building in the Commonwealth of Virginia. To this day, the Company maintains its headquarters in heart of the City's Central Business District.
AHH Listed NYSE
After 34 years of experience developing, building and managing commercial real estate, Armada Hoffler Properties successfully completed a $218 million initial public offering on May 8, 2013 and became a publicly-traded REIT listed on the New York Stock Exchange under the symbol "AHH."
Added to the MSCI U.S. REIT Index (RMZ)
Effective November 30, 2016, Armada Hoffler Properties was added to the MSCI U.S. REIT Index (RMZ). The MSCI US REIT Index is a free float-adjusted market capitalization weighted index that is comprised of equity Real Estate Investment Trusts (REITs).
Added to the S&P Smallcap 600 Index
Effective June 19, 2017, Armada Hoffler Properties was added to the S&P SmallCap 600 index. The S&P SmallCap 600 measures the small-cap segment of the U.S. equity market. It consists of 600 domestic stocks selected by Standard & Poor's Index Committee based on specific eligibility criteria such as market capitalization, liquidity, and financial viability.
$1 Billion Equity Market Capitalization
In early 2018 Armada Hoffler Properties reached a $1 billion equity market cap for the first time.