President and Chief Executive Officer
Louis S. Haddad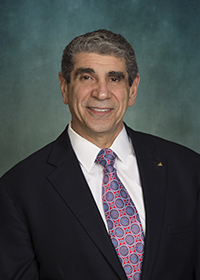 Lou Haddad was recruited to Armada Hoffler in 1985 as an on-site construction superintendent, where he quickly distinguished himself among company executives and subcontractors, alike. Following several promotions, he was elevated to President of Armada Hoffler Construction Company in 1987, despite being a few months shy of his 30th birthday. During his subsequent 9-year tenure, the division's annual revenue grew from $5 million to $150 million. In 1996, Mr. Haddad was promoted to President of Armada Hoffler Holding Company, the parent of all Armada Hoffler entities, inclusive of the flagship development division as well as asset management. In 1999, he was given the additional title of Chief Executive Officer. Under his leadership, Armada Hoffler became one of the largest commercial real estate companies in the State of Virginia. The Company has participated in over 25 Public-Private partnerships, changing skylines across the region including its flagship local project, the Town Center of Virginia Beach.
In 2013, Mr. Haddad spearheaded the company's initial public offering and transition into a publicly-traded REIT listed on the NYSE. Primarily due to its growth and stability, Armada Hoffler has been added to both the MSCI US REIT Index and S&P Small Cap 600. Since the IPO the company has increased its property holdings to 51 large-scale commercial assets and has developed over $800 million of new projects. Company operations now span across seven Mid-Atlantic states.
Mr. Haddad is widely recognized in Hampton Roads, Virginia, for his philanthropy and dedication to special-needs children. He is the Co-Founder and Benefactor, along with his wife, Mary C. Henninger, of the Louis and Mary Haddad Foundation, dedicated to improving the lives of disadvantaged and at-risk children, since 1999. Mr. Haddad has also been active with several youth and medical charities, including Big Brothers Big Sisters, American Heart Association, Governor's School for the Arts, Special Olympics, United Way, and the March of Dimes. Mr. Haddad was appointed to the University of Virginia Board of Visitors by Governor Northam in 2019.  In 2022 he was recognized in Virginia Business' Power List. He has also been recognized by several awards and publications as one of the most influential leaders in Virginia.