July 13, 2017
4525 Main Street Awarded Prestigious LEED Green Building Certification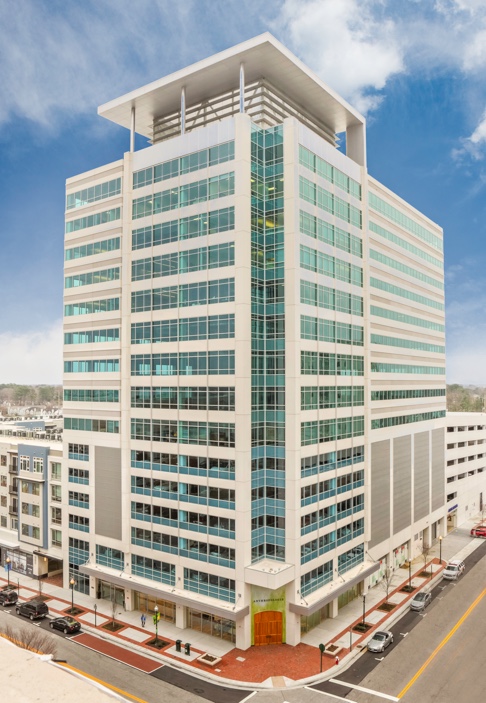 VIRGINIA BEACH, VA, February 22, 2017 ─ Armada Hoffler Properties announced today that the newest office tower in the Town Center of Virginia Beach located at 4525 Main Street has been awarded LEED Silver certification, while the Clark Nexsen office space within the tower is LEED Gold certified per the standards established by the U.S. Green Building Council (USGBC).
The 4525 Main Street tower achieved LEED certification for implementing practical and measurable strategies and solutions aimed at achieving high performance in sustainable site development, water savings, energy efficiency, materials selection and indoor environmental quality. Some of the sustainable choices implemented included the following strategies and components:
Over 40% of building materials were sourced regionally (within a 500-mile radius);
Over 75% of construction waste was diverted from landfills by recycling or reuse;
Over 20% of the base building is made of recycled content – the building's lobby features heart pine walls that were reclaimed from an old cordage factory and an old dock;
39% water use reduction over the baseline case using efficient plumbing fixtures;
19% energy cost savings over the ANSI standard;
35 preferred parking spaces for low-emitting and fuel-efficient vehicles;
Bicycle storage and changing rooms with showers for tenant use;
Roof that utilizes high reflection material to reduce the heat island effect.
One area where the office tower excelled on the LEED scorecard was related to its community connectivity and public transportation access. Its prime location in the dynamic Town Center environment provides pedestrian-friendly access within a half-mile radius to basic services such as banks, pharmacies, grocery stores, schools, restaurants, a fitness center, and many more.
"The 4525 Main Street tower was developed and built to offer a strategic location to businesses seeking some of the most desirable Class A office space in the Coastal Virginia MSA," said Louis Haddad, President and Chief Executive Officer of Armada Hoffler Properties. "We believe the prestigious LEED certification further establishes this building and its sustainable design as providing a healthy workplace environment, which helps boost workforce morale and productivity, in a location that appeals to employers and employees alike."
The Clark Nexsen Town Center office space, which is LEED Gold certified, was designed to optimize the health and well-being aspect of the interior environment and actively promote the collaborative, ideas-based design approach that is at the core of Clark Nexsen's culture. Some of the most noteworthy sustainable choices included extensive glazing to capitalize on daylighting, the relocation and reuse of existing casework, office furniture, seating, and storage items – minimizing waste headed to a landfill; recycled glass countertops; low or no VOC paint, adhesive, and finish materials; and the selection of products with a long life cycle such as the terrazzo lobby flooring. The interior lighting promotes a creative and modern atmosphere by using dynamic lighting for collaborative spaces, sustainability through multi-zone scene and daylight control, and luminance contrast ratios to display work. A lobby wall features reclaimed wood that was salvaged from facility renovations at the Washington Navy Yard. It is a sentimental and sustainable reference to the firm's strong history of work on naval projects.
"Each design element in our new office space was thoughtfully chosen for both its aesthetic and sustainable benefits, and is representative of our commitment to social responsibility across our company and our planet," said Susan Drew, director of interiors at Clark Nexsen. "With LEED as a guideline, the thoughtful and strategic implementation of sustainable features makes good business sense, with LEED certified buildings consuming less energy, less water, and diverting waste from landfills."
LEED is the foremost program for the design, construction and operation of green buildings. More than 36,400 commercial projects are currently LEED certified, comprising nearly 5.5 billion square feet of space in all 50 states and more than 164 countries and territories.
"Market transformation happens one building at a time. The 4525 Main Street project understands the value of LEED and has exemplified extraordinary leadership in reshaping their sector," said Mahesh Ramanujam, president and CEO, USGBC. "The success of LEED is due to the partnership and support of those committed to advancing green building and sustainability. Each new LEED certification is one step closer to revolutionizing the environment in which live, work and play."
About 4525 Main Street
The 4525 Main Street project was completed in 2014 as part of an ongoing, public-private partnership between Armada Hoffler Properties and the City of Virginia Beach. The mixed-use development encompasses a 15-story LEED Silver certified office tower, designed and anchored by Clark Nexsen, as well as 290 apartments, 23,000 square feet of retail which is 100% leased, and approximately 950 parking spaces in a structured garage.
About Armada Hoffler Properties, Inc.
Armada Hoffler Properties, Inc. is a full service real estate company with extensive experience developing, building, owning and managing high-quality, institutional-grade office, retail and multifamily properties in attractive markets throughout the Mid-Atlantic and Southeastern United States. The Company has elected to be taxed as a real estate investment trust ("REIT") for U.S. federal income tax purposes.
About Clark Nexsen
Founded in 1920, Clark Nexsen is an ideas-based architecture and engineering firm with clients in over 41 countries, and 400 employees in 10 offices located in Virginia, North Carolina, Georgia, and Texas. Clark Nexsen delivers solutions for architecture, engineering, planning, interior design, and landscape architecture. The firm is ranked in Building Design + Construction's Architecture/Engineering Giants Top 20 and has won numerous awards and accolades for its work, including more than 70 AIA local, state, regional and national design awards.
About LEED® RATING SYSTEM
The LEED (Leadership in Energy and Environmental Design) rating system, developed by the U.S. Green Building Council (USGBC), is the foremost program for buildings, homes and communities that are designed, constructed, maintained and operated for improved environmental and human health performance. Leaders across the globe have made LEED the most widely used green building rating system in the world with 1.85 million square feet of construction space certifying every day.
Media Contacts:
Stephanie Maheu
Armada Hoffler Properties, Inc.
Marketing & Communications Manager
Email:
SMaheu@ArmadaHoffler.com
Phone: (757) 579-1342