June 9, 2021
Wealth management firm is the latest company to leave downtown for Harbor Point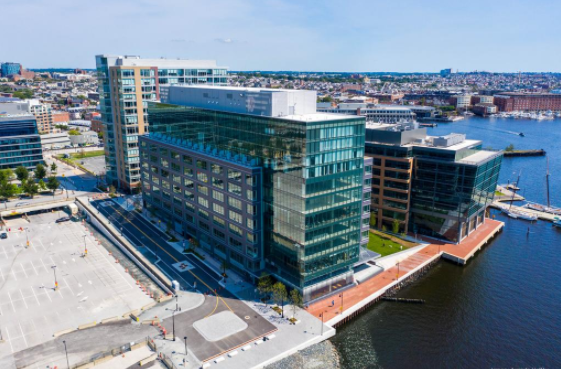 By Melody Simmons of Baltimore Business Journal
RBC Wealth Management is moving into nearly 6,000 square feet of office space at Wills Wharf as Harbor Point's tenant base continues to grow.
The national banking, investment and wealth management firm, which currently has offices at 100 Light St. downtown, will take over new space on the second floor of the newest Class A building by October, Beatty Development Group and Armada Hoffler Properties said Wednesday.
The move will see RBC Wealth reduce its office footprint by nearly 50% — the company currently leases 11,100 square feet at 100 Light St. for its 75 employees, according to CoStar. RBC Wealth is a division of RBC Capital Markets — itself a subsidiary of Royal Bank of Canada.
Mike Crowell, Baltimore director at RBC Wealth, said the move to Harbor Point will offer the company "more opportunity for growth" and better access.
"Moving to Wills Wharf provides us with more opportunity for growth, as well as a premier, centralized location to offer better access and an even greater level of client service to our growing client base," Crowell said, in a statement.
RBC Wealth's migration east is the latest in an ongoing migration of companies from the central business district to Harbor Point — and marks the second time within the last month that a 100 Light St. tenant has announced plans to move to Wills Wharf. Transamerica announced May 25 it was moving from its marquee office location at the downtown tower — where its name is emblazoned on the top of the building — to Harbor Point. The financial firm signed a deal to lease 35,000-square-feet of new space on the eighth floor of Wills Wharf after leasing eight floors totaling 125,109 square feet for a decade at 100 Light St.
Late last year, T. Rowe Price Group Inc. also announced it was leaving a 450,000-square-foot headquarters at 100 E. Pratt for a new, modern waterfront space that is preparing to break ground early next year for a 2024 move-in.
The vacancies in the central business district have been a mounting point of concern especially as Covid-19 continues to affect the marketplace. The pandemic has been blamed in part for the departure of several companies, and the downsizing of others, which has created a record level of subleasing availability and a vacancy rate of about 25%. The Downtown Partnership of Baltimore said in April the CBD had shed 7,000 jobs during the pandemic.
Besides Transamerica, RBC Wealth Management will join Jellyfish, EY and Bright Horizons in the 330,000-square-foot mixed-use, eight-story building in Harbor Point. The Class A property opened last year and is anchored by a 156-room Canopy by Hilton Baltimore Harbor Point hotel that holds the popular Cindy Lou's Fish House, of the local Foreman Wolf restaurant group.
Donald Fry, CEO of the Greater Baltimore Committee, said RBC Wealth's decision to remain in the city was a plus.
"Like many cities, Baltimore is fortunate to have a number of business hubs that are attractive to growing business operations, including Harbor Point and the central downtown area," Fry said. "Taken as a whole these hubs make up a thriving economic ecosystem in the city."
Chris Seiler, a spokesman for Beatty Development, said three floors remain up for lease at Wills Wharf and that the developer is "engaged in conversations with multiple potential tenants about those spaces."
Coworking giant WeWork backed out of a 69,000-square-foot lease at Wills Wharf last July as the company announced it was restructuring. Some of the space now leased by Transamerica was formerly claimed by WeWork, Beatty officials have said.