July 20, 2023
Armada Hoffler celebrates 20 years of Virginia Beach headquarters
By Gabby Jimenz at The Virginian-Pilot
Armada Hoffler, the real estate company and notable mixed-use developer of Town Center of Virginia Beach, is celebrating 20 years headquartered in the coastal city.
Founded in 1979 by Portsmouth native Daniel Hoffler, the company spent its first years headquartered in Greenbrier in Chesapeake, and in 2003, it made the move to Virginia Beach.
Soon after signing on to develop Town Center as a partnership with the city, Armada Hoffler soon recognized it would be the company's largest investment to date, said Lou Haddad, the company's president and CEO.
"And so, we wanted to put our headquarters in concert with our largest investment," he said.
Along with $108 million in public funds, Armada Hoffler reports investing around $500 million into Town Center over the years, and the area has continued to grow.
"We're very proud of the fact that Armada Hoffler is part of our family in Virginia Beach and has made magnificent contributions to making Virginia Beach one of the most livable cities in the country," Mayor Bobby Dyer said.
Prior to the development, the land that now houses Town Center was relatively barren, Haddad said. Now, it contains around 620,000 square feet of retail space, 800,000 square feet of office space and 760 apartments in the city's central business district. Town Center spans 17 blocks and 25 acres midway between downtown Norfolk and the Oceanfront.
Town Center bustles with daily activity from its over 160 commercial tenants and around 1,500 residents. Of those business tenants, about 90 of the companies were new to Virginia Beach, Haddad said.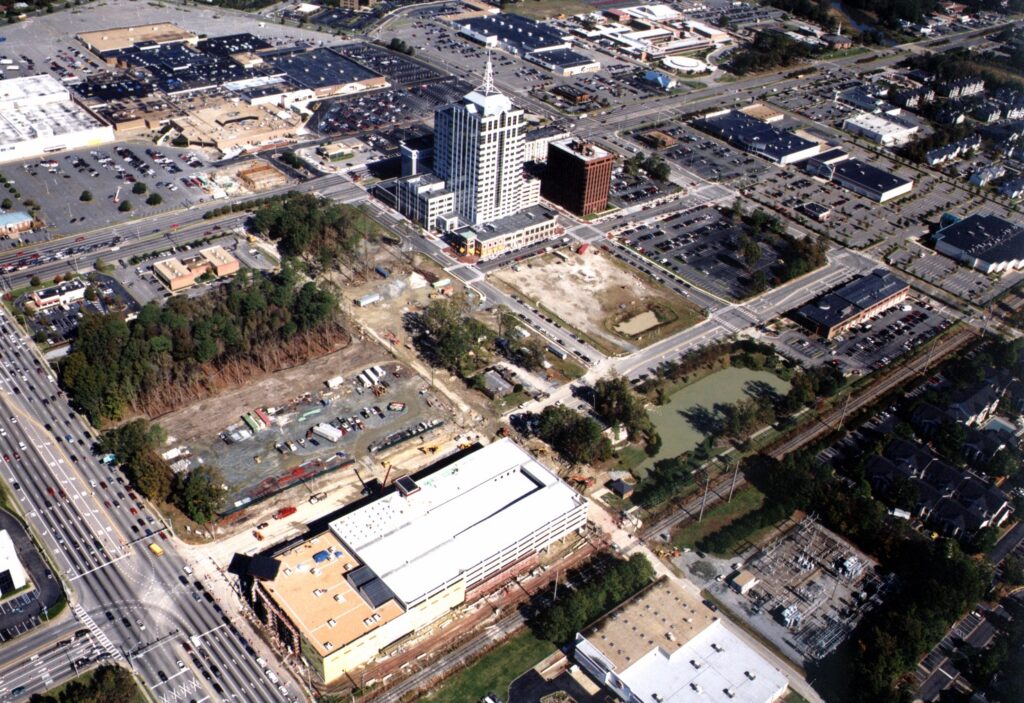 "That huge influx of corporate activity that's come and settled here, that's the primary impact," Haddad said. "And then, on a more pedestrian level, we've created something that is home for a lot of people. This is where the town square is. This is a local gathering place."
The 23-story Armada Hoffler Tower looms over the urban district. The company uses three floors to house its construction, development, finance and asset management groups and accountants. Six of the other office tenants inside the building are original tenants from 2003.
Armada Hoffler's agreement to build its headquarters at Town Center was just as important as anything else, said Gerald Divaris, CEO and chairman of Divaris Real Estate and the Divaris Group. Divaris Real Estate also maintains its headquarters in Town Center, where it provides management and leasing.
In the mid-1980s, Divaris envisioned that the Pembroke area could become the city's downtown, but he said it wouldn't have happened without Armada Hoffler.
"With the active support, financial backing and enterprising energy of Lou Haddad and his team, and the enthusiasm of Dan Hoffler, the Town Center of Virginia Beach became a reality," Divaris said.
The company established an ecosystem where the apartments, office buildings, stores and restaurants work together "because people want to be where the activity is," said Shawn Tibbetts, the company's chief operating officer.
In 2022, The Pilot reported that Town Center office space had reached 99% capacity, even as more people were working remotely because of the coronavirus pandemic.

The 23-story Armada Hoffler Tower looms over the urban district. The company uses three floors to house its construction, development, finance and asset management groups and accountants.

Town Center also created a stimulus for development and apartments in the surrounding area, particularly because the business district is where they're working and younger people want to live where they work, said David Burton, an attorney at the Williams Mullen office in Armada Hoffler Tower.
The centralized location makes it easy for clients to meet with their lawyers or other professionals, he said.
"For our lawyers and our staff, it has provided a work-lifestyle balance that has been very attractive to people because of the restaurants and shops being in proximity with where people work," Burton said. "It's made it easy for them in that way."
Haddad said Armada Hoffler hopes to announce new Town Center tenants by the end of the year. In 2022, Old Dominion University announced plans for a new data science facility to open in Town Center by this fall.
The company is expanding its footprint further into the Southeast, with a presence in seven states and cities such as Baltimore, Atlanta and Charlotte and Raleigh in North Carolina. Armada Hoffler now has over 760 commercial tenants, nearly 2,500 residential units and about 6.5 million square feet of commercial space nationwide.
The company has "deep roots" in Virginia Beach, Haddad said, but the future for its headquarters is unclear. Today, the company has larger investments outside Hampton Roads than within the region as it has grown primarily across the mid-Atlantic and Southeast, he said. And so, there are opportunities to move to a higher growth area.
"But ultimately, the decision of where the company is located is going to be based on what brings the most value to our shareholders," Haddad said.
The developer helped architecture firm Clark Nexsen establish its headquarters in Town Center in the 15-story Main Street Tower in 2014. The firm noted Armada Hoffler has made a direct, everyday impact on the people who work and live in Virginia Beach.
"Armada Hoffler's impact in Virginia Beach has been incredible," Clark Nexsen said in a statement. "Not only do they have the vision and ability to dream big, but they also have the tenacity to make those dreams come to fruition and flourish."