October 20, 2021
The History Between Armada Hoffler and Town Center of Virginia Beach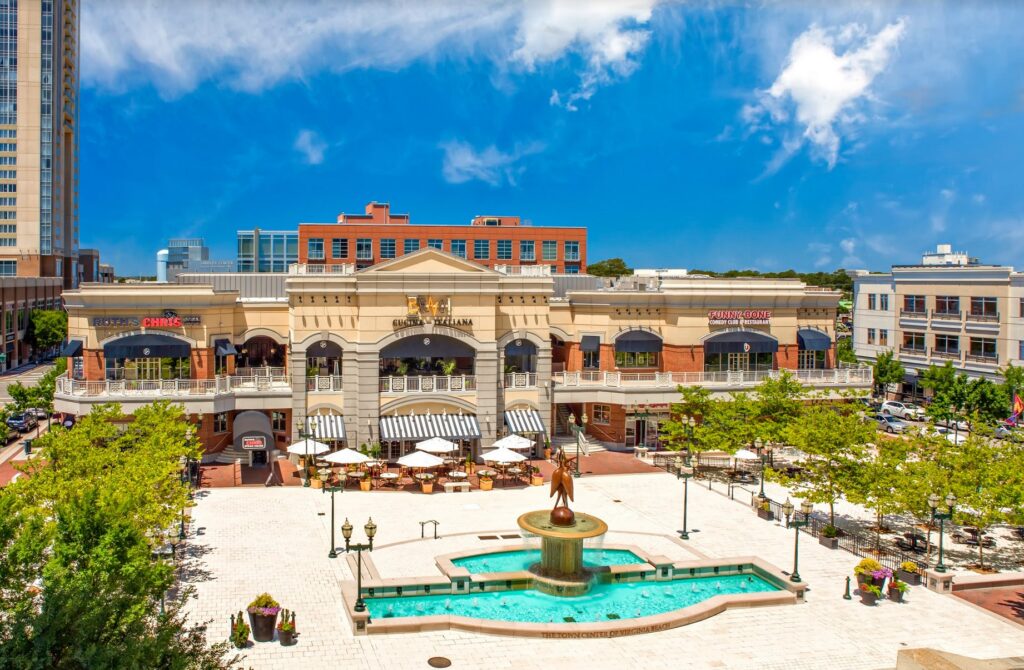 The Town Center of Virginia Beach began its groundbreaking construction process in 2000 and has been prospering for over 20 years now. The Armada Hoffler Tower was actually the first building among the mixed-use community and opened in 2003!
The mixed-use development spans over 17 blocks, 25 acres, and is the site of 70 market retailers. Over the last two decades, Town Center has proven to be a monumental location in Virginia Beach, and an area that only adds to the longevity of the city at large.
Even though Town Center feels so deep-rooted into the culture of the city, it's still fresh and new. Of course, we are all familiar with the disguisable property that houses the only Cheesecake Factory in Virginia Beach, but not everyone knows the history of Town Center of Virginia Beach – so let's talk about it!
1973 – The city zoned the area, which is now known as Town Center, a central business district.
1982 – Gerald Divaris moved his broker business from South Africa to Virginia Beach. He was looking for a city center and this was something Virginia Beach was lacking at the time.
1985 – The Central Business District Association created a concept plan for Town Center of Virginia Beach.
1989 – The city council, with the help of a consultation, launched a commission and began accessing options for funding.
During this period of time, Divaris pitched to out-of-town developers, but no one truly saw the potential of the area. Some did not believe Virginia Beach had what it takes to be the placeholder of a city center.
1999 – Divaris contacted Dan Hoffler and Lou Haddad, both of Armada Hoffler Properties, as reinforcement on the project. In that same year, Jim Spore, city manager, and Louis Jones, former councilman, negotiated a deal with Armada Hoffler.
2000 – Armada Hoffler broke ground on the project shortly after the Town Center plan was approved by Virginia Beach City Council.
Town Center of Virginia Beach continues to grow and expand to this day. With new retailers such as DryBar, Dogtopia, and Three Notch'd Brewing Company (coming soon), there's no telling what is in store for the future.
Being that it is a mixed-use community, there are all types of development included that are not retailers. Town Center of Virginia Beach has more than 800 residential units and one million square feet of office space. In addition, there are more than 4,000 parking spots that are free of charge at all times and valet services for those who need it.
Armada Hoffler is fortunate to be able to maintain a local presence in Virginia Beach while building, managing, and developing properties all over the Mid-Atlantic region of the United States. We hope to continue to expand our portfolio and create even more mixed-use developments that give other areas more opportunities!
What's your favorite retailer at Town Center of Virginia Beach? Let us know!
Be sure to follow Town Center of Virginia Beach on social media: