November 2, 2021
Armada Hoffler Wins CoVa Best of Business Awards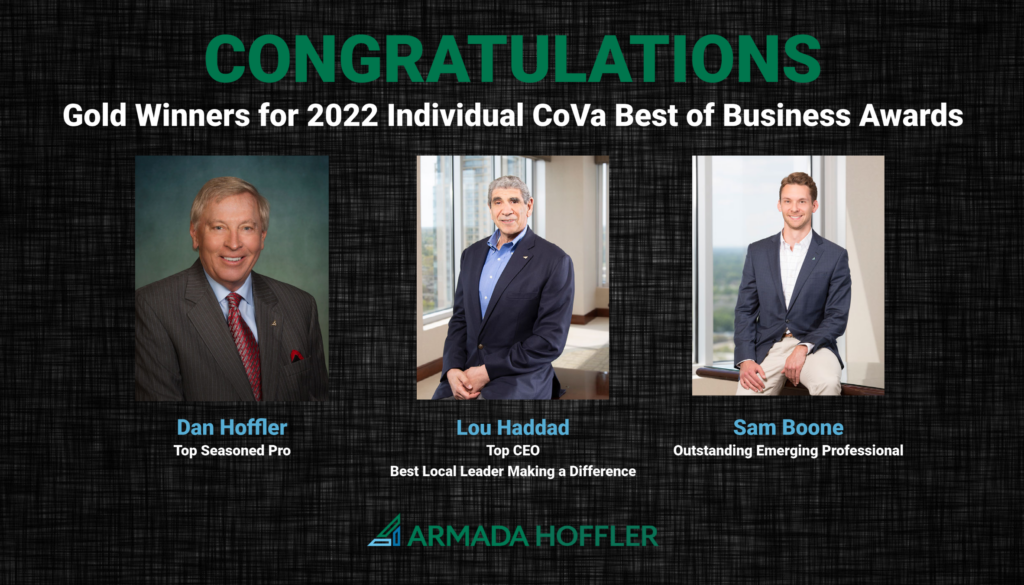 Each year, CoVa BIZ Magazine recognizes local businesses for their positive contributions to the community. After an extensive selection process, Armada Hoffler was recognized for six CoVa Best of Business Awards. Armada Hoffler received three company awards and three members of our team received individual awards.
CoVa BIZ established the Best of Business Awards in 2017 to companies, services and individual people who make doing business in Hampton Roads exceptional. Every year since then, the publication invites the local business community to cast their vote for the businesses in the region they find to be most trusted, effective and innovative.
For 2022, Armada Hoffler is recognized for Gold Level awards in the following categories:
Local Company with a National Presence
General Contractor
Commercial Builder
We have received Best of Business Awards in the Best Commercial Builder category since 2018 and Best General Contractor since 2019.
The three individuals being recognized for Best of Business Awards include Dan Hoffler, Lou Haddad and Sam Boone.
Dan Hoffler, Founder and Executive Chairman of the Board of Directors
Top Seasoned Pro
Dan Hoffler founded Armada Hoffler in 1979. The success and prosperity of the company over the last 40 years is a great representation of how Dan proves to be a seasoned professional in the commercial real estate industry.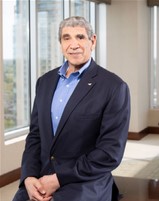 Lou Haddad, President and CEO
Best Local Leader Making a Difference AND Top CEO
Since 1985, Lou Haddad has been a crucial leader at Armada Hoffler. He began his career with the company as a construction superintendent, quickly working his way up to CEO of the company in just 11 years.
Sam Boone, Project Manager
Outstanding Emerging Professional
Sam Boone began at Armada Hoffler in September 2014, originally as a construction intern while studying at Old Dominion University. In May 2015, he joined the team full-time as a Project Engineer. He has since advanced to the position of Project Manager.
Thank you to everyone who voted, and congratulations to our individual award winners who dedicate their talent and skills to the success of Armada Hoffler. Each year, being honored by the Best of Business Awards increases our motivation to build a vision of trust and excellence while leading by example.
Armada Hoffler takes pride in being one of the leading real estate investment trusts in the Mid-Atlantic region and in our ability to provide sustainable, long-term value to our investors. For more than 40 years, we have maintained a highly successful integrated business model and continue to keep incredible synergy between the company's three business units – development, construction, and asset management.
Armada Hoffler engages as an active community leader in Hampton Roads and continually makes efforts to build trust within the community. With a reputation recognized on a national level, we are bringing best-in-class leadership and talent home to Hampton Roads.
Beyond business, we are passionate about helping those in need and working with nonprofit organizations by offering support whenever it is needed. It is an honor to know that our community recognizes and appreciates efforts of assistance.To keep up with all news and company updates visit our website or follow us on Instagram: @armadahoffler.