October 27, 2022
Harbor Point: Baltimore's Gateway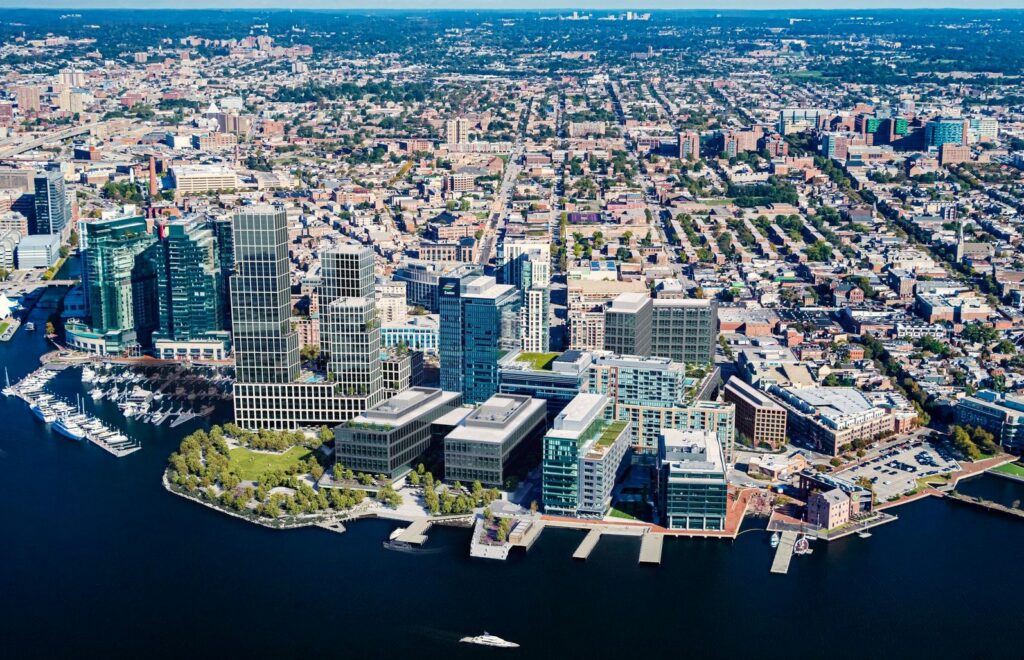 Harbor Point is an exquisite mixed-use community in the heart of Baltimore, Maryland, between Fells Point and Harbor East. Armada Hoffler is fortunate to work with Beatty Development Group to create multi-family, commercial, and retail properties within Harbor Point. These properties catalyze growth in the local community with the goal of benefiting the many businesses and individuals that call Baltimore home.
A lot of hard work has gone into implementing a local retail strategy that focuses on rallying local and regional tenants who are new to the neighborhood. Leasing to local businesses ensures a common understanding of the local market and a further investment into the community.
In addition to the retail strategy, the project upholds the multifaceted elements of Harbor Point that center around creating an urbanized yet sustainable area for the community. These elements include green and blue spaces to promote health benefits, close proximities to increase walkability, housing that creates a "one-of-a-kind" residential experience, and upscale cuisine that features fresh and locally sourced ingredients.
Another way Harbor Point is advantageous to the Baltimore community is its establishment as the first eco-district in the area. An eco-district delves deep into the idea of making individual buildings sustainable by engineering LEED standards into the entire neighborhood. Every building requires at least a LEED Silver standard, as developers are also encouraged to promote responsible water usage, minimize the use of resources, and consider fuel-efficient transportation options.
Harbor Point truly gives back to its members and seeks cultivation beyond business. Over time it has established itself as a place to work, live, and play community.
As mentioned, Armada Hoffler maintains a close relationship with Beatty Development Group with the ongoing intention of building projects that positively impact the local community.
Currently, Harbor Point is in its third phase of development, expected to be completed by 2024. It includes Parcel 3, Parcel 4, and Point Park.
Parcel 3 is the T. Rowe Price Global Headquarters, which will feature two seven-story buildings joined by an all-glass atrium. It will cover roughly 550,000 square feet of office space and retail space.
Parcel 4 is our mixed-use development known as Allied | Harbor Point. This project will feature 500 new residential units built over a 1,250-space parking garage. It will also include a 152-key Marriott extended-stay hotel and over 10,000 square feet of retail space.
The waterfront park, Point Park, is a 4.5-acre green space alongside the Inner Harbor and will be an ideal gathering space for the community.
Armada Hoffler is actively working with Beatty Development Group to construct T. Rowe Price's headquarters along with Allied | Harbor Point.
"We are thrilled to embark on another significant project with our longtime partner Beatty Development Group," said Louis Haddad, President and CEO of Armada Hoffler. "Allied | Harbor Point is an ideal complement to the other components of the broader development and a critical step in our long-term strategy to cement Harbor Point as Baltimore's go-to destination."
To stay up-to-date on all information related to Armada Hoffler's current construction at Harbor Point, connect with us on LinkedIn or follow us on Instagram and Facebook.